Day 1 – The Origin of Shapes
One of the most common shapes found in nature is the six-sided hexagon – each cell in a honey bee hive, ephemeral snowflakes, microscopic dragonfly eyes or the pattern of a turtle's shell. Shapes that repeat themselves become patterns, like the spots on a ladybug, wind ripples on a sand dune or the spiraling of a mammillaria, which brings us to . . .
Fibonacci's famed sequence of numbers – 1,1,2,3,5,8,13,21,34 and on to infinity – where each number is the sum of the previous two. The ratio between the numbers (1.618034) is frequently called the golden ratio and is evidenced in those geometric spirals in mammillaria, as well as pinecones, nautilus shells and sunflowers. Where leaves spiral down the length of a stem, rain is funneled to roots and upper leaves shade the lower – the pattern's name is phyllotaxis, a new word for your next Scrabble game.
We use shape to help us identify objects in the natural world. The characteristic shape of a cardinal, upright and crowned by a crest; or the nail imprints of a coyote track that helps set it apart from that of a bobcat; or the bipinnate leaves of a mesquite versus the simple leaves of an Emory oak. Come explore the world of shape, the world of nature, with us.
Picasso Loves Shapes
The Shape Escape
Elements of Art: Shape
MORE VIDEOS
The Greedy Triangle
Mouse Shapes
Shapely Blooms
Arizona Passionflower (Passiflora arizonica) is found only in Pima and Santa Cruz counties in Arizona and in a few areas of northern Sonora, making it a true native. Also known as "fetid passionflower" for the disagreeable smell of its leaves, this perennial vine blooms in mid-summer. Highly structured flowers are noted for their crown of fleshy lavender-blue filaments and prominent yellow stamens – like a fanciful lady's hat.
Related to amaryllis and also growing from bulbs underground, Sonoran Spider Lily (Hymenocallis sonorensis) prefers streamside habitats and wetlands. Long, narrow, deep green leaves are the perfect backdrop for its spider-shaped white flowers. The rather unique flowers are made up of six narrow, curved petals attached to a shallow cup formed from the fused stamens.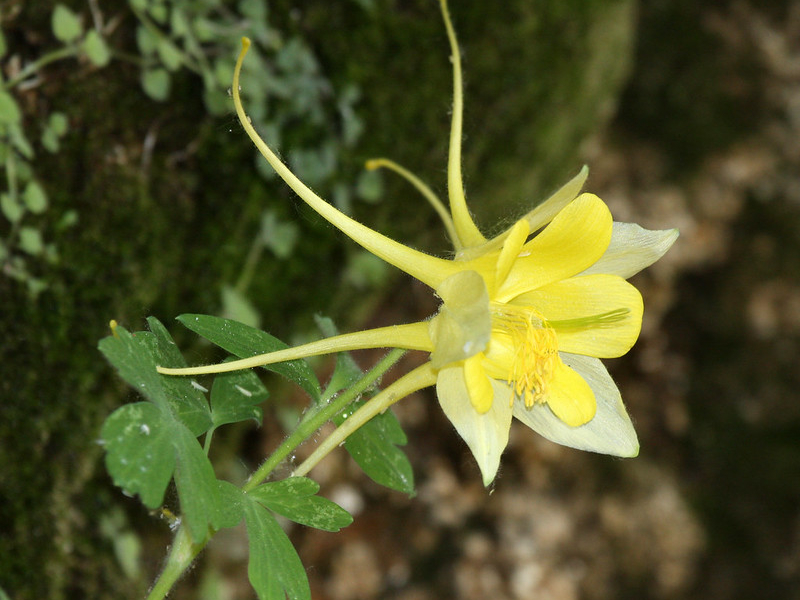 Looking like a yellow rocket in flight, the winged flowers of Golden Columbine (Aquilegia chrysantha) trail distinctive spurs. Growing in moist canyons in the Sonoran and Chihuahuan Deserts, it is the perfect candidate for a shade garden here in Tucson; its pollinators include both bees and butterflies. And interestingly, the name "columbine" comes from the Latin word for dove, referencing the flower's resemblance to a group of doves.
Slipper Plant aka Lady's Slipper (Pedilanthus macrocarpus) is a vertical, relatively leafless succulent that grows in clumps, its ½" thick stems rising up to 3' tall. A member of the Euphorbia family, its origins are in the Sonoran Desert of northwest Mexico and central Baja California. Because of their resemblance to a lady's slipper, the unusual reddish-orange flowers appearing along the stems in spring and summer, give the plant its common name.
As their name implies, pipevine swallowtail butterfly caterpillars are particularly fond of plants in the genus Aristolochia. While native to South America, White-veined Hardy Dutchman's Pipe (Aristolochia fimbriata) is a perennial, vining groundcover with white-veined, heart-shaped leaves and totally bizarre flowers in green, maroon and yellow that resemble fringed elephant trunks.
Native to South Africa, starfish-flowered Stapelia (Stapelia grandiflora) can take some getting used to, but are certainly attention getting. If happy in their growing space, stapelia will flower spring, summer and fall. Also known as the carrion plant, this succulent produces massive, hairy flowers with the odor of rotten meat designed to attract their designated pollinator – flies.
---
Learn What To Look For
Arizona Urban Field Guide
What Tree Is That?
Bird Finder
WhatBird.com
Mammal Tracks & Signs
Animal Track ID Guide
Track and Scat Guide
For Beginners
How To Draw
Zendoodle A Tile
Borders and Strings
Patterns
Activity Time
Patterns and Paper
Backyard Bird ID
Leaf It To Me
Tracks ID Chart
Tracks Maze
---
Download this week's coloring sheets featuring Shapes!
---
Get To Know The Artists
Magdalena Nowacka-Jannotta
2 Gambel's Quail
Roosters on my Lawn
"I make my cuts freehand without measuring or drawing. The intricate folding and cutting does not allow unfolding and refolding of the paper to check the design. When the piece is completed, there is always an unexpected reward. I remember my first papercut, in Polish a wycinanka, or a symmetrical or pictorial cutting and layering of colorful paper, was made of a newspaper when I was a child. My mother's friend taught me how to fold and cut the paper and then to unfold it to reveal the beautiful repeated patterns.
More
I will never forget how surprised I was then, and how surprised I still am now, about seventy years later, when I unfold my papercut and see the unexpected patterns. Both of my parents were endowed with artistry in their hands. My mother made intricate embroideries and my father made sculptures in iron, and so, after World War II, our bare home was filled with their works and their desire to beautify our place was present everywhere in my childhood. My mother used to take me for walks in the meadows and forests to look for simple beauty in wild flowers and weeds. I had to count flower petals and check the shapes of the leaves, which were saved later in a notebook to dry.
I love making wycinanki, the plural of wycinanka, because these traditional works take my memories back to the places of my 'old world' Poland, which left a mark on my life. Therefore, soon after I arrived in America, I started to create wycinanki' to feel at home. The walls of my home were large, and I had to cover them with my works. I have been cutting paper, teaching and exhibiting my works for over seventy years. My designs are traditionally cut, freehand, using hand-forged sheep shears. I have a strong desire to share and to maintain this simple art of papercutting.
My works are in various collections in Italy, Poland, China, and the United States at the Library of Congress at the Archive of Folk Culture. My life in Arizona and the omnipresent desert has taken me to another dimension in my works. I am now creating new desert, and it takes me to a different way of thinking, creating newer emotions than I have experienced in my previous busy city life. I am still searching for my identity in the realities of the world. I want to create spiritual and peaceful spaces which will open possibilities for further exploration and for positive encounters in nature."
Carmen Nashboo
Beaded Olla Maiden
This beaded doll represents an Olla Maiden, or pot maiden. An Olla Maiden carries a pot on her head because she is responsible for bringing water back to the tribe. The Zuni believe that
More
everything is balanced, like the olla on the maidens head. The piece is made with peyote stitch, also known as gourd stitch, which allows the artist to bead over a three-dimensional object. Zuni artists began to create beaded pieces with the encouragement of trader C.G. Wallace, who introduced the art to them and promised it would be profitable. Tourists loved the unique look and hardy artwork that would not break on the return trip.
MORE ARTISTS
Margit Kagerer
Clouds – Monsoon
Cactus Blossoms
Clouds – Afternoon
"Some of the cacti are inconspicuous during the year but their flowers burst into such intense colors that can be seen from far away. This inspired me to make a quilt with brilliant fabrics.
Before I came to Arizona I thought that the sky was always just blue and cloudless. After living here for 17 years, I know that the sky shows many shades of blue and has all kinds of clouds. Clouds are moving across the sky like sailing boats. By late afternoon, the blue sky turns into shades of pink and purple indicating a possible beautiful sunset. Those towering clouds of the monsoon; they promise long awaited rain.
More
I was introduced to the world of quilting and fiber art when I relocated from Germany to the United States. As a math teacher, I have been attracted to the geometric patterns in traditional quilt making. Right from the beginning, I created my own contemporary designs. My education in mathematics still figures throughout my work. The way I arrange the blocks and shapes has to do with the clear structure of geometry. A major aspect of my quilts is the use of bright and brilliant colors. Most of the ideas for my work have been derived from the surrounding environment: the four seasons in New England, the rock formations in Arizona, and the beauty of the Sonoran Desert. Working with the different fabrics gives me a creative freedom and allows me to transfer what I see into a picture or abstract design."
A native of Germany, fiber artist Margit Kagerer was introduced to the world of quilting and fiber art when she relocated to the United States. Margit and her husband came to Massachusetts from Munich, Germany in 1992 and she found herself with time on her hands and a desire to do something creative. She had been a math teacher to 11th and 12th graders. Her interest in geometry naturally led her to admire the patterns found in traditional quilts. The couple moved to Arizona in 1997 and Margit started designing quilts with desert themes. She became a member of the Mavericks, a contemporary art quilt group.
Willard Sakiestewa
Mongwu Katsina, Great Horned Owl
A popular doll among carvers, this Great Horned Owl Katsina appears in several katsina dances including the Powamuy, Purification ceremony also known as the Bean Dance. Carved from the root of a
More
cottonwood tree and painted according to tradition, Willard Sakiestewa has been credited for his early efforts toward realism that can be seen in the katsina's body contours and stance.
Robin Westenhiser
It Happens Here Every Spring
"I am an allergy sufferer. My take on pollen… Have you ever wandered out at night and shown a flashlight high in the sky? It is startling, the swirl of dust and pollen that floats through the air and just how much there is! I work from my home in Tucson, Arizona with a beautiful view of the Santa
More
Catalina Mountains. I am a collector of things. I find inspiration in my colorful southwestern surroundings, love my Sonoran Desert, the mountains that surround the city and our big blue sky. My close proximity to the border has developed a deep love of Mexico, the colors, the foods, the traditions and the people. I love to paint in bright colors that make me happy and feel alive! My paintings make me smile and I hope they make others smile too!"
Unknown San Juan Pueblo Artist
Ceramic
Unknown Navajo Artist
Storm Pattern Rug
This storm pattern rug is distinguished by pattern, not color. The rug contains symbolism for storms, which is believed to have been developed by a Non-Navajo trader in Tuba City who was inspired by a Navajo legend. This rug is an abstract portrayal of a natural event.
---
A conversation with artist Lex Gjurasic and James Schaub, Tohono Chul Curator of Exhibitions
Shaping and Coloring an Acquired Taste
A few years back, spring of 2018, I am in my office putting together the exhibition ARIZONA OTHERWORDLY – my phone rings. On the other end is Lex Gjurasic – she is curious about what kind of artwork has been coming in and wants to know what I am thinking about – as far as how I see the exhibition taking shape. I tell her – "Just before the phone rang Lex, I was thinking about your work." – I really was. She laughs and reminds me, she has "a whole series of work titled OTHERWORLDLY, and how could I dare put together an exhibition without at least one of them. The series title is the same as exhibition James, the decision should be an easy one James!" Gjurasic was right. It was.
READ MORE
I selected one piece – 'Neptune'.
It was hard to choose just one. Gjurasic's works from her Otherworldly Series are not only super colorful, they are super active. I had to consider how their organic and biomorphic cut-out shapes would find compatibility with the frames and regularized geometry of the other works I was selecting. 'Neptune' would need some space. I knew this because a year earlier, curating the ARIZONA ABSTRACT exhibition, I had invited Lex to bring in five or six smaller works from the series. I had the idea of distributing them through the three galleries at different heights. Despite their small size they packed a mighty punch. Eventually, we installed three – energizing an already active space. I liked the work and what it did immensely. From that point, I knew I would work other pieces from the series into future projects. I admired their impulsive playfulness within their committed outline and structure as well as their many illusionary effects that were punctuated with discordant pops of weirdly brilliant color. They commanded attention and possessed considerable wall power.
I admired Gjurasic's work, concepts, and drive from the get go. The first time she exhibited her work at Tohono Chul was in 2015 – two square drippy and brushy painterly acrylics of prickly pear cacti – syrupy sweet in color – beautifully observed. They were very appealing representational abstractions, but nothing a traditionalist or designer would gravitate toward –they were not pictures, they were paintings. Depicting the life cycle of the plant, through their color and paint handling they illustrated environmental stress and decay, without being illustrative. These were paintings backed up with creative concepts. In her statement, Gjurasic spoke about synesthesia – an activation of the senses, one with another – in those painting she was tasting color. The painting got people to look, the statement got them to think.
Gjurasic is an artist who is 'in' their work, fully "in" it, in and out of the studio. Just like her work, she is colorful, sometimes raw, always finished, but never too slick. A character with great character – she is a proud promoter of her own work. Interactions with Lex are always fun and never dull – she keeps me apprised of what she is working on and how things are going – she knows what is happening in and around town, she is a staunch advocate of Tucson's art community. Just like her work, she commands attention and pushes things forward without being pushy.
And, just like her work – Gjurasic is little otherworldly and totally present.
JAMES SCHAUB: Lex, you have been in Tucson for a few years now. What was your path to Tucson?
LEX GJURASIC: I am originally from Seattle, but because of my spouse's work we have moved all over. Previously we had lived in Albuquerque, my daughter was born there. We loved the high desert. I had never been to Tucson prior to moving here, I knew I would love it and it didn't disappoint. I can't ever imagine not living in the southwest.
JS: What kind of work were you making up there?
LG:While living in Seattle I made a lot of work that was inspired by Japanese kokeshi dolls. Seattle is a Pacific Rim city so it has a definite Japanese influence. I specifically created works about the kokeshi collection my mom, who grew up in Japan, collected as a girl. Those paintings which are of hundreds of individual and unique dolls, were done on big pieces of paper, they were featured in the exhibition Kokeshi: Folk Art to Art Toy at the Japanese American National Museum in 2007.
JS: You seemed to hit the ground running when you got here – you had work out there – people told me about your work way before I saw it. It takes a lot of work to break into new place, let alone make the work. I know how hard that is – you made it seem effortless.
LG: Thank you for saying that, though to be honest any time I have moved it's an absolute shock to my creative system, there is a span of time when I deal with a creative block. Once I acclimate to my new surroundings I can really start working.
JS: That makes sense. The same thing happened to me when I moved here. You really took to the place though. You have a tremendous energy and enthusiasm for your work – and, it comes across in how they are painted.
LG:I really believe in my work and my personal vision. And if I don't believe in it who will?
JS: The first paintings you exhibited at Tohono Chul were those prickly pear paintings. Square formats, full charged – brushy, drippy – but not hurried. I really got a sense you were looking very closely at those cacti. The color, seemed at first, a little jarring and not from nature, but then when you really look you realize that – WOW! – as funky as they seem on the gallery wall take them outside and placed side by side with the real thing – there are spot on. There is a seriousness to them.
LG:I definitely do work quickly and playfully. I try to allow the materials I use speak for themselves, to get at the essence of what I'm inspired by. From there it's up to the viewer to fill in the blanks.
JS: How do series work for you? Are working on one painting at a time or are you bouncing between several?
LG:I always seem to find myself trapped into working in a series, it stems from the compulsive nature of how I work. I do bounce around. Paint takes time to dry and I don't want to wait around for that to. I want to maximize my time in the studio!
JS: What about the series – one at a time, or several at once?
LG: Usually it is one series at a time, but lately, to keep loose, I have been trying to create work that are one-offs. Since the beginning of the Covid-19 isolation in March I've been lost in the new series Flower Mound. The series began on panels but has expanded – I am creating works with e same themes on handmade paper, thin tissue like paper, and sculpture made of Styrofoam.
JS: One thing I vividly recall about exhibiting your work was explaining to visitors your synesthesia –of tasting color. It was a really curious thing for people to consider – at first, most were reluctant to accept it as a viable reason, explanation, response, interpretation for artwork – and then with a little encouragement they opened up to the idea. They could see where you were going.
LG: You know I always considered my synesthetic response to color a side effect of the creative process. Then when I took a deep look at it and how it impacted my process I moved it to the forefront and it became a powerful tool to further my artistic intuition – it is like a divining rod for color.
JS: The color and movement brought them in, the ideas you dangled in front of them, hooked them.
LG: I'm always just trying to make work that is unique to my vision.
JS: a new way of looking?
LG: My way of looking.
JS: Totally abstract? Totally representational? Or in combination?
LG: For me, because I think quickly and work with the same speed, my work will always have a gestural quality. And because I let the materials lead me, the place I end up is anyone's guess. Failure IS AN OPTION! I like to ponder the work of Sally Michel when I think of tip-toeing toward abstraction while still keeping a firm grip of form.
JS: What drew me to your right off the bat was that mix of representation and abstraction. I loved the exuberant, moody color and the way the pieces were painted with great confidence. They were not fussy in the least – and nicely observed. Looking at the work I thought that this was an artist who knew how to start a painting and maybe, more importantly, knew when to stop.
LG:My mantra while I work is, "I CAN DO WHATEVER I WANT." So ,as I noodle in my studio and I ask myself internal questions as to where I should go next within a piece – I remind myself that I can do anything. I think being a self-taught artist had embedded me with that fearlessness.
JS: Confident and in control – a good place to be. I see it all of your work – from the prickly pears and through other series – let's stick with cacti. Next up was the crested saguaros – the Mutant Series.
LG: Much like the compulsive nature of working with all of those kokeshi dolls; a series of paintings with a particularly engaging and inspirational subject, takes me toward the same obsessions that drive a gold miner or treasure hunter. Once I got pricked with the crested saguaro bug I began to track them down by off-roading in the desert. Those paintings, ended up feeling more like portraits of notable figures in history than an anonymous cactus. They had an air of importance.
JS: And the series Otherworldly? How did that start? Why the move to shaping the panel?
LG: For me the background of a painting always feels like an afterthought …so I thought why not just ditch it? As my cristate inspired paintings grew more organic and goopy by cutting the background out and defining them purely by their outside shape they were allowed to be free!
JS: A lot of shaped paintings are predetermined by a drawing or schematic. Do you work that way?
LG: I seldom sketch, and if I do it's extremely loose. Like, one gestural line on a scrap of paper. Because I had a woodworker cut the shapes and mount them on a base so they could float two inches from the wall I had to firm up my vision. For each piece in the Otherworldly Series I created cardboard templates to size that my woodworker traced and followed to create the shaped panels.
JS: the organic shapes you are cutting from plywood panels are great – they work in any direction like a lot of abstract painting do. With such organic forms, all curved and bulbous – no straight lines or sharp angles – do you have a hard time deciding the orientation of the piece or does it follow, the way the plant grows?
LG: No, their orientation is definitely premeditated.
JS: They really move to toward total abstraction. How abstract are they? How real are they? Do they start with something specific? Or, are the shapes conglomerates of multiple things?
LG: I make it up as I go along, so there is no telling. Once I'm finished I make the judgement of what was going on within the piece, I have to process my process.
JS: Just as the funky shapes, jarring color and discordant color schemes get your attention – so do the titles.
LG: Do they?
JS:Yes. Yes they do.
LG:I've been trying to be more pointed with my titles so people have something to grasp onto with my weirdness with. I feel like I can push it all further and a good title is like a life preserver for the audience not to drown but stay afloat and come along.
JS: These Otherworldly paintings have been in two exhibitions at Tohono Chul . In ARIZONA ABSTRACT we installed three of them around the galleries at various heights. It hit me immediately after the first one was installed how much wall power they have. Two years later we isolated one of the larger ones in the exhibition ARIZONA OTHERWORLDLY. We gave it a lot of space that time, it "demanded" people see it and spend time with it.
Wall power – is it something you think about or does it just happen?
LG:Yeah man! I always end up living with my art on my own walls, so I like BIG impact, even in small things. I want a piece to be bold and dominate a wall, why would you waste your time with anything else?
JS: You showed the series OTHERWORLDLY at the Tucson International Airport (TIA) – It must have been wonderful to see more than several hanging at one time.
LG: Through Tucson International Airport I was able to showcase every piece in the series. The gallery space was really spacious with high ceilings. I mounted them traditionally and horizontally because of restrictions of the space. I really would have loved to see these pieces hung like at Tohono Chul, flying all over the space.
JS: Did you get a report on the reaction to them?
LG: TIA hosted a tour of their art collection for the docents at the Tucson Museum of Art so I had the opportunity to do a Q and A with those lovely folks. I was really surprised at how perceptive their feedback was. It was a great experience. I'm over here making work in my studio thinking I'm keeping all my secrets to myself so when they called me out about what they saw in my work – it was good fun.
JS: When working in a series, does it have an end or do you leave it open ended?
LG: Because of the intense and obsessive nature of how I work I tend to take the inspiration to the max, exhaust it, then it's over.
JS: Where has Otherworldly led you? You work in two dimensions and three dimensions. I have seen extremely tiny works on paper and small sculptural pieces, as well as large paintings and their totemic sculptural counterparts. What are you doing now?
LG: Working on those shapely Otherworldly pieces directly informed my murals. In fact, in tandem with my current Flower Mound series I am created smaller cutout pieces on wood, a playful body of work, less abstract, and very specifically focused on mushrooms and flowers. I'm going to be offering those up to collectors in time of the holidays.
JS: You are tireless. What comes next?
LG: Next, for the annual exhibition Call and Response V I'm creating a vessel that is inspired by a piece in the Tohono Chul Permanent Collection. The sculptural piece I'm making is in response to a pitch basket that at first glance, you might think, doesn't vibe with my over the top work, but I promise my contribution will be a dynamic addition to the legacy of the Call and Response.
JS:I am expecting great things Lex. Before we go – what is your favorite shape?
LG:I don't have a favorite shape, but I do love a scalloped edge.
JS: Makes perfect sense – very calming
About The Artist
Lex Gjurasic is a visual artist originally from rain soaked Seattle, WA, currently living in dusty Tucson, AZ. She has exhibited her work nationally for over 20 years most notably in 2009 as a featured artist in the exhibition Kokeshi: Folk Art to Art Toy at the Japanese American National Museum in Los Angeles, CA. In 2017 her video was made part of the permanent collection at the Getty Institute as part of Miranda July's Joanie4Jackie archive. Recently she has delved into Public Art completing a mural with the City of Tucson's Downtown Murals Project as well as a temporary immersive exhibition at the Scottsdale Public Library with Scottsdale Public Art. Much beloved in Tucson she was nominated in 2018 for Best Visual Artist with The Tucson Weekly.
LEX GJURASIC has been featured in the Tohono Chul exhibitions: SONORAN DESERT: LARGE and SMALL (2015); REVISIONS: OUTSIDE LOOKING IN (2016); DAY FOR NIGHT (2017); ARIZONA ABSTRACT (2017);and ARIZONA OTHERWORLDLY (2018). Gjurasic has also generously been part of the annual fundraising events at Tohono Chul: 10 x 10 | A FUNDRAISER and the SONORAN SPRING GALA. Gjurasic was invited to be a Visiting Artist for the CALL and RESPONSE V exhibition – the exhibition will be rescheduled when the universe allows.
The artists that are featured in this SHAPES segment of TOHONO CHUL @home use shape as a vital element in the art they make. Nothing can replace seeing these works in person, however, look closely and you may start to notice how 'shapes' are everywhere and in everything.
Nora McGinnis
Bougainvillea Debris
Growth Pattern X
Growth Pattern XI
Specimen II
Patterns are everywhere in the world around us. They can appear linear and direct like the finely interwoven threads of cloth, or organic and fluid like pollen-laden petals swirling through the air, but there is an order to them just the same. My work stems from my fascination with both the timeless biological patterns of growth, decay, and evolution, and the mechanical patterns inherent in the fiber media.
More
Nora McGinnis is a studio artist based in Tucson, Arizona. She earned a Bachelor of Fine Arts in Fibers at Arizona State University and an Associate of Arts from Bard College at Simon's Rock in Great Barrington, Massachusetts. McGinnis is currently pursuing a Masters of Fine Arts at Indiana University in Bloomington.
Michael Afsa
Mirror to the Night
Burst
Copper Blooms
Flowers Rocks Wind IV
"I create wall sculptures that bring to mind lush gardens and imaginary landscapes. I create these works by combining elemental materials like aluminum, wood, sand and plant fibers, and unifying them with paint. I am inspired by nature, particularly flowers, which I interpret through simple, abstract forms and textures."
More
Michael Afsa creates sculpture and mixed media assemblages that evoke idyllic flora and imaginary landscapes. His three-dimensional works are abstract interpretations of nature, made up of geometric forms and varying textures. Michael creates these works by combining materials like metal, wood, clay, sand, and plant fibers, and coating them in paint. The technique is inspired by ancient gilding, which seeks to preserve and honor its subject matter, in this case flowers. His work draws upon the significance of flowers in human rites and passages throughout the ages. It invites the viewer to renew this significance, and more broadly to reconsider other symbols in our culture.
MORE ARTISTS
Kate Stamps
Desert Clouds
Catalina State Park
Pusch Ridge
"Several years ago, before I moved to Arizona, I was living in the Hudson Valley and working three different jobs while finishing graduate school. Life was moving dizzyingly quick and I was trying to do too much all at once. My favorite day of each week was when I got to steal away and drive across the river to Tarrytown to spend Sunday afternoons as a tour guide for groups and individuals who had travelled from all over the world to see the stained glass paintings by Marc Chagall, and the last work ever designed by Henri Matisse: the rosette window at the Union Church of Pontico Hills, which had been founded by the Rockefeller family for the local community.
More
Between visitors, there would be quiet time, when just the two or three of us guides would have the private luxury of sitting quietly, chatting and admiring these transcendent windows. I was often transfixed and calmed by the balance of ethereal and earthly qualities in Chagall's abstracted forms; I admit that I did not understand how he arrived at those shapes and colors that seemed to come from a mix of the outside world and some internal dreamlike vision. I had loved Chagall's paintings since the day my fourth grade art teacher held up a book of his work and flipped through the pages for us to see. If Chagall's window had a deep complexity, Matisse's rosette window was, conversely, light and simple: like speaking volumes with just a few words.
After living in Arizona for a few years, in a world that is shaped by the strength of the sunlight, I have come closer to finding a duality of depiction and abstraction. When the intensity of the sun and dry air are so powerful, and the contrasts of shade and night so dramatic, if I depict the world as it looks, I cannot always capture how it feels to move about in this strangely intense landscape. I have searched for ways to express the delightful confusion of perspective and dreamy refractions of hue; These have allowed me to explore my two favorite basic elements of painting — light and color — in these watercolors."
Alvaro Enciso
Visual Tautologies #1
Visual Tautologies #2
Red Dot Project
"This work is part of my visual exploration concerning the current status of the 'American dream,' a notion that may no longer exist. Is it a myth nowadays, or a compromised version still out there for some, but not for others? The metal used for these pieces, mostly abandoned tin cans, was found in the Sonoran Desert, particularly on migrant trails.
"During the month of June, 2016, the remains of 24 migrants from Mexico and Central America were found in southern Arizona. Each death is shown as a red dot on a map tracking migrant fatalities. If one looks closely at the map, corridors of death from north to south can be traced."
More
Alvaro Enciso, a native of Colombia, South America, moved to the US in the 1960s to pursue a college education. He has graduate degrees in cultural anthropology, and Latin American literature. He has lived at various times in New York, Maryland, New Mexico, and in 2011 moved to Tucson. He has exhibited widely and his work is in in private collections in North America, Latin America, and Europe. He has been the subject of newspaper and magazine articles, radio, and film documentaries.
Jeffrey Jonczyck
Confluence
Pop no. 2
At the very core, Jeffrey Jonczyk's work is about color and shape. By evoking the symbolism and language of color and shape, his compositions take on energy and form. Mr. Jonczyk finds inspiration in the work of nontraditional artists: children, the insane, the untrained outsider, primitive cultures.
More
He tempers the creative chaos of these influences with modernist balance – simple square fields become windows to vibrant, kinetic universes. Mostly working with wood as his canvas, Mr. Jonczyk paints, sands, repaints and repeats the process until he has coaxed the final image to the surface. Seemingly simple areas of color are revealed to have complexity and depth; objects that appear to float above the surface exist inside multiple layers. Each painting is a visual time capsule that stirs memories and urges interaction.
Mr. Jonczyk also works and explores with other materials such as paper, cardboard, tin and copper as collages in single, diptych and triptych square formats.
Margit Kagerer
Tonto Hills
Evening Sky
I was introduced to the world of quilting and fiber art when I relocated from Germany to the United States. As a math teacher, I am attracted to the geometric patterns in traditional quilt making. Right from the beginning, I created my own contemporary designs. My education in mathematics still
More
figures throughout my work. The way I arrange the blocks and shapes has to do with the clear structure of geometry. A major aspect of my quilts is the use of bright and brilliant colors. Most of the ideas for my work have been derived from the surrounding environment: the four seasons in New England, the rock formations in Arizona, and the beauty of the Sonoran Desert.
"The mountains north of my house are brown and green and turn yellow in spring when the wildflowers bloom in abundance. Gold was found there and mined many years ago."
A native of Germany, fiber artist, Margit Kagerer was introduced to the world of quilting and fiber art when she relocated to the United States.  Margit and her husband came to Massachusetts from Munich, Germany in 1992 and she found herself with time on her hands and a desire to do something creative. She had been a math teacher to 11th and 12th graders. Her interest in geometry naturally led her to admire the patterns found in traditional quilts. The couple moved to Arizona in 1997 and Margit started designing quilts with desert themes. She became a member of the Mavericks, a contemporary art quilt group. Margit has exhibited since 1995.
Lyn Hart
Saguaro Oscuro
Nopalita Violeta
"Santa Rita prickly pears (Opuntia violaceae santa rita) display decidedly un-cactus-like hues of red-violet, blue-violet, and bluish-green. A Sonoran desert cactus that is both indigenous and commonly used in urban xeriscapes, it creates jumbled sprawling masses of paddles that shelter many desert creatures. In spring, their luminously shocking greenish-yellow blooms burst forth, revealing another aspect of their unusual beauty."
"Saguaros (Carnegiea gigantean), the iconic giants of the Sonoran desert, provide homes and juicy red fruits for desert birds, while marking the coming
More
and going of our rains with the accordion-like expansion of their ribs as they swell and shrink. At night, they stand as silent sentinels, their human-like forms illuminated by the moon."
Lyn has been drawing and painting for as long as she can remember. Her interest in textiles and fibers began in her early twenties in Florida where she taught herself to make quilts. After relocating to Tucson, Arizona in 1997, Lyn worked for a number of years as a labor & delivery and obstetrical research nurse, all the while taking every opportunity to explore and become increasingly enamored with the desert lands of the Southwest. In 2005, she left nursing to focus on her dream of becoming a fiber artist. After taking a natural dyeing workshop taught by a tapestry weaver, she decided to pursue the medium of handwoven tapestry. In 2006, Lyn began exhibiting her tapestries; in early summer 2007, her home studio was constructed. In 2018, a growing desire to create non-objective works in series led her to delve into mixed media collage, a genre that shares many of the tactile qualities of working with fiber, but which allows for faster exploration and implementation of ideas and inspirations. Lyn's work in tapestry has garnered a number of awards, including three National Park artist residencies at Grand Canyon North Rim, Glen Canyon National Recreation Area (Lee's Ferry), and Zion, earning her the distinction of being the first tapestry weaver to participate in the National Park system's artist-in-residence program. Her tapestries and mixed media collages, which have also begun to receive rewards, have been exhibited in both local and national venues. Lyn's passion for and exploration of the Sonoran Desert began when she arrived in Tucson, was enhanced during a several year stint as a volunteer naturalist at Sabino Canyon Recreation Area and a yearlong arts fellowship during 2018 at the University of Arizona's Desert Laboratory on Tumamoc Hill, and continues today through her wanderings in the Southwest.
Roger Asay & Rebecca Davis
Elm Stick Spiral
"Like much of our collaborative sculpture, ELM STICK SPIRAL is an installation piece that focuses on a specific natural material. In this case we have collected forked elm branches found near our Prescott home, peeled them, sanded them and arrange them to bring out their form and
More
beauty. Their simple, abstract spiral configuration sets off the organic complexity of the sticks at the same time that it unifies them and gives them a clear focus.  Because these sticks are not fastened in place, each time we show this piece it must be set up anew. It will always be fresh, fragile and immediately present, a visual feast of texture and pattern to please the senses and engage the mind."
Roger Asay and Rebecca Davis crossed paths in Albuquerque during the early 1970's and found in each other a common passion for the direct use of natural material in sculpture. After 10 years of parallel careers and occasional shared exhibitions they joined their visions into a single, more refined body of work. Both as temporary installations and as assembled objects the work took on a minimal presentation that allowed the organic nature of the material to be revealed. Now, with over 30 years of collaboration behind them their work has been seen in major museums and art centers throughout the region and beyond. Calling Prescott, Arizona their home, Asay and Davis have explored deeply the vast array of environments found throughout the American Southwest, and in the process forever learning to truly see.
Clark Trujillo
Inverted Array
"My art is realized through a collection of sheet metals. I see great character within the textures, acquired paint, and natural patinas of this resilient material. Wear, corrosion and general transformations are highlighted within clean geometric modules which connect to form the finished work and complete a process of re-integration."
Sandra Luehrsen
Tree of Life . Arizona Tea
Tree of Life, Micro Desert Sculpture no.9
"I came from Chicago to this wild place, Arizona, for a new beginning. I didn't expect it but the exotic flora fascinated me right from the start. Inspired by the desert, I use clay to create my own hybrids.
These sculptures have container and plant components. The container becomes the plant and the plant the container – a two-way metamorphosis. Long used for making food vessels, the clay itself seems to deliver sustenance. The plasticity of wet clay easily allows the expression of growth. The material itself exudes a life force.
I use red earthenware clay. Each sculpture goes through multiple firings–a bisque firing at 1987° F (cone 03); two or more glaze firings at 1828° F
More
(cone 06); and, for some works, ceramic transfer or metallic luster firings at 1360° or 1252° F respectively (cone 017 or 019).  I make a boron-based creamy matte glaze with raw materials and add ceramic stains for color.  I also fire nichrome (i.e., kiln element) wire into the sculpture and apply gold or copper metallic luster to it."
Sandra Luehrsen was born in Chicago, Illinois.  She earned BA and MA degrees at Northern Illinois University and an MFA at Arizona State University (ASU).  In 1999, Luehrsen left a position as assistant dean of the ASU Graduate to start her own art business.  She also teaches 3D design at Mesa Community College and presents clay workshops.  Luehrsen exhibits her ceramic sculpture and digital artwork locally, nationally, and internationally.
The Auckland Institute and Museum in New Zealand, the Arizona State University Art Museum's Ceramics Research Center, the West Valley Art Museum, the Cities of Phoenix, Tempe, Peoria, and Chandler, the Kamm Teapot Foundation, and many notable private and corporate collections hold her work.  500 Prints on Clay, 500 Teapots 2, Smashing Glazes, and The Ceramic Surface Design Book are just a few of several books that include Luehrsen's earthenware sculpture.  HGTV's Crafters Coast to Coast and KGUN9's The Morning Blend featured Luehrsen's art.
For recreation, Luehrsen swims, walks, and researches family history.  She and her brother, Dr. Kenneth Luehrsen, are avid fans of The Rockford Files.
Miriam Otte
Agave Blades
"My work is about change. I am curious about the long-range effect of change on us, our society and the environment."
Miriam Otte has worked as a fiber artist for the past 18 years. Her work has been shown in the Seattle area and in various galleries around Arizona; with frequent contributions to Tohono Chul's exhibitions.
Katherine Monaghan
Fe203,nH2O,C5H802Turmeric
"Recently while going through a large travel trunk at my mother's home, I came across a small box with my grandmother's handwriting, 'lace made by Grandmother Artman.' The lace was delicately patterned and skillfully crafted. Further down in the trunk, I discovered richly patterned quilts all with notes pinned to them written by my 'Muzzy' signifying who in my family made them. The trunk
More
was a treasure trove of lace, quilts, embroidery, needle point, handmade clothing and dolls, my ancestors were extraordinary artists! The treasures took me by surprise, and I realized that the journey these incredible women in my family began almost two hundred years ago leads directly to me.
While my materials are entirely different, the patterning that evolves in my work is reminiscent of the intricate needlepoint patterns my Grandmother Monaghan crafted or even the lace my great, great Grandmother Artman once created."
Growing up in the 1970s near NYC with a writer mother and artist father, the arts have always been an extremely fertile component of Katherine's life. The music, art, fashion and pop culture of the70s are woven deeply into the fabric of her work. Monaghan is a mixed media artist who utilizes the medium of rust as a base for most of her large prints. She relates her pattern based imagery to the rich familial history of the feminine arts of lace making, embroidery, needlepoint and quilting.
Monaghan holds a BFA in Illustration and an MFA in Printmaking. Her work has been in exhibitions, publications and is in private collections both nationally and internationally.
Colleen Quigley
Pink Arcadia
Propagation Pop Cacti
Pink Arcadia is a grouping of hybrid forms covered in a pink glaze inspired by the multiplicity of shapes and colors of cacti native to the Sonoran Desert. The arrangement of the pieces evoke propagation and repetition, a dynamic that highlights the potential of basic forms. The pink glaze evokes an idyllic space of unbounded colorful nature, a pink arcadia.
Propagating Pop Cacti evokes the movement and shapes of plant life found in the Sonoran Desert landscape.
More
Working with clay, a malleable medium that allows creative transformations, this piece suggests multiple pollinations while leading us to imagine a diverse, wondrous world full of possibilities.
Colleen Quigley earned her BFA in Sculpture from the University of the Arts in Philadelphia, her MFA in Printmaking from Tokyo Geijutsu Daigaku (Tokyo National University of Fine Arts and Music), in Tokyo, Japan, and attended the New York Academy of Art.
Quigley's current work covers a broad range of media and includes painting, sculpture / installation, ceramics and encaustic. Her work has been exhibited in Italy, Japan, Singapore, the United States, and the U.A.E. Her current research and areas of interests include postmodern strategies of artmaking in relation to themes of originality, materiality, popular culture, and the transcultural flow of objects and memory. Colleen currently resides in Tucson, Arizona.
Dana Senge
Desert Rabbit
"Desert Rabbit is a study in structure, movement, and form. This abstraction uses one form to imply another: caved lines depict plant material that, in turn, imply the form of the rabbit. The result expresses life, curiosity, and the moment before movement."
More
"My current work focuses on sculpting animals in clay, using different visuals and levels of realism or abstraction. The technique I use to achieve this type of structure has been in development over a couple of years. The general animal form is built with solid walls using coil and pinch techniques. As the clay dries, it is carved back and added to in order to create the linear texture. I find the visual of this technique intriguing to work with and I continue to push both my sense of depicting the animal form and what can physically be achieved with the clay."
Lex Gjurasic
Sea Foam Paddle
Otherwordly is a series of paintings inspired by cacti, clouds, fungi and sea life. Pulling from every plane of existence, including the cosmic, Otherworldly is the next level of Gjurasic's work which continually draws inspiration from natural forms. These levitating paintings,
More
which are painted on wood and mounted in a way to cast a sculptural shadow, evoke pop and graffiti movements as well as cartoon and Japanese Kawaii culture, blending with Gjurasic's urban desert experience in a dynamic and unexpected way.
Shapes & Artists
The Shape of Things -Henri Matisse
WATCH – Matisse Making Paper Cut-outs
Shapes in Motion – Alexander Calder
MORE ARTISTS & VIDEOS
Shapes and Color – Ellsworth Kelly
Shaped Paintings – Frank Stella
WATCH – Irregular Polygons
WATCH – Black Aluminum Copper – Trailer
SHAPES in OP ART – Bridget Riley
Working Through Shape – Elizabeth Murray
Shapes Taking Form – Richard Serra
WATCH – Gagosian West 21st Street + West 24th Street
Line Taking Shape – Jackson Pollock
WATCH – Fractal Nature of Pollock's Paintings
Shaping Minimalism in Tucson – Olivier Mosset
WATCH – Collection Pictet
Shaping Space with Light – James Turrell
WATCH – James Turrell's Roden Crater
WATCH – You Who Look | Art + Film
---
Day 5 – Weekend Inspiration
Making Beak Shapes – Use the shapes of leaves to make a backyard dichotomous key
Use The Arizona Urban Field Guide
---
Next Week's Theme