Tohono Chul is a unique urban desert garden with nature trails and cultural programs. In the 1980s, the Wilsons established Tohono Chul, a 37-acre parcel of land, to protect and preserve a piece of the Sonoran Desert, and donated 65 pieces from Suzanne Colton Wilson's collection to establish Tohono Chul's Permanent Collection. Today, we have grown to 49 acres with a collection of over 350 objects.
Over the years, unique vintage objects from five collections have been gifted but not accessioned into the Tohono Chul Permanent Collection and are now available for purchase. The Collections Corner helps support the gardens, galleries, and programs with 100% of each sale going directly to Tohono Chul. The Collections Corner offers a rare opportunity to acquire museum-quality artwork, jewelry, and objects.
---
The Elinor Lamont Hallowell Collection of Patriotic Native American Art
In United States history, the American flag has been infused with a great many ideologies, serving as a medium for solidarity, personal expression and social commentary. Through a variety of patriotic Native American artworks donated to Tohono Chul by Elinor Lamont Hallowell, these pieces provided a unique view of the American flag and the inextricable nature of symbolism and the human experience.
Mrs. Hallowell participated in several of Tohono Chul's travel Ed-ventures, visiting locations throughout Arizona and New Mexico. What began as a casual interest soon developed into a passionate pursuit. This diverse collection, exhibited at Tohono Chul in 2014, includes works created by Sioux, Navajo, Iroquois and other Native American artisans, all of whose motivation has sprung from different experiences and events in American history.
Lidded Makah Basket
Lidded basket with United States flag design by Unknown Makah Artist
Red, White and Blue Wristband
Bracelet with antler, buffalo bone, glass and silver beads by Wabanaki/ MicMac artist Bob Norell
Flag and Tree of Life Pictorial Weaving
Pictorial rug with tree of life motif by Navajo artist Irene Warren
Flag Messenger
Mild steel feather on a triangular base, painted with United States flag motif by Hopi artist Bryson Nequatewa
Child's Beaded Vest, 1890
Pictorial, fully beaded, buckskin vest by Unknown Sioux Artist
To see more pieces from the Hallowell Collection, click below:
See More
---
The David and Lura Lovell Collection
After selling their profitable companies, David and Lura Lovell established a family foundation to help support the mental health industry based on the decades of work Lura has done on behalf of their son and others. The foundation was a lifelong dream of the Lovell's and continues today to invest in non-profit organizations that support people and programs that empower lives, provide opportunities, improve conditions, and advance community.
Lura also had a love and appreciation of the Desert Southwest and the artwork created here. Since 1989, she has collected over 100 pieces of contemporary Native American and Mexican artwork. She had a great love and appreciation for the art and gardens of Tohono Chul, so much so that several of the outdoor spaces at her home were inspired by the gardens of Tohono Chul. When she passed in 2013, her art collection was donated to Tohono Chul.
Hopi Wicker Plaque with Pinwheel Designs
Hopi wicker plaque from the third mesa with a pinwheel design and multicolored center by Unknown Hopi Artist
Star and Lightning Jar
Rose on brown oval jar with sgraffito star and lightning design by Santa Clara/ Taos artist Polly Rose Folwell
Serpentine Bear Fetish
Brown serpentine bear fetish with black eyes by Zuni artists Aaron and Thelma Sheche
Cochiti Storyteller
Cochiti polychrome on buff storyteller with twenty-one children all around her. by Cochiti artist Vangie Suina
Tohono O'odham Split Stitch Tray
Yellow and white split stitch tray by Unknown Tohono O'odham Artist
To see more pieces from the Lovell Collection, click below:
See More
Ceramic Nativity Scene
Santa Clara blackware nativity scene that includes nine figures by Santa Clara artist Linda Askan
Santo Domingo Triangular Bowl
Polychrome triangular miniature bowl by Santo Domingo artists The Tenorio Family
Santa Clara Red Mini Jar
Red polished miniature jar with three bear paw indents by Santa Clara artist Tina Garcia
Pipestone Snake Fetish
Red pipestone incised snake with blue eyes by Zuni artist Darren Shebola
Hopi Red Jar
Red polished jar by Hopi artist Alton Komalestewa
Hopi Miniature Corn Jar
Miniature Hopi polished buff jar with a corn applique on one side by Hopi-Tewa artist Iris Nampeyo
Black Polished Santa Clara Bowl
Santa Clara black polished bowl with oval indents above shoulder by Santa Clara artist Tina Garcia
Hopi Coiled Bowl with Antelope Designs
Hopi coiled bowl with antelope designs in orange and brown by Hopi artist Pearl Coochwytewa
Alabaster Horse with Bundle Fetish
Alabaster horse with black eyes and a black stone bundle by Zuni artist Virginia Toombs
Silver Jar
Navajo sterling silver jar with feather designs by Navajo artist Norbert Peshlakai
Navajo Rattle
Hide rattle with beads, bells, feathers and a deer horn handle by an Unknown Navajo Artist
Gallup Squares
Three gallup squares in various designs and colors by Unknown Navajo Artist
Hopi Wicker Plaque with Rainbow Design
Wicker plaque from the third mesa in a rainbow design by Unknown Hopi Artist
Hopi Wicker Plaque with Star
Hopi wicker plaque from the third mesa with 5-point star design by Unknown Hopi Artist
Hopi Wicker Plaque with Whirlwind Design
Hopi wicker plaque from the third mesa with whirlwind design by Unknown Hopi Artist
---
The Agnes T. and Don L. Smith Collection
Agnes Smith and her husband Don had a fondness for the native cultures of the Southwest, frequently traveling and purchasing objects for their collection. Mrs. Smith had warm feelings for Tohono Chul and wanted to share her collection so that our visitors might appreciate and enjoy these fine Native American crafts as she did.
A majority of the Smith Collection has been accessioned into our Permanent Collection and the remaining are now available for purchase. Included in this collection are fine examples of Native American basketry, pottery and Navajo weavings.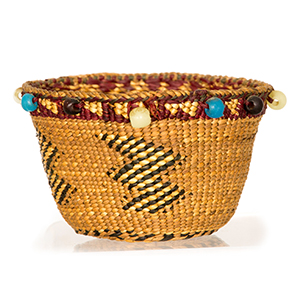 Quinault Basket with Beads
Basket with maroon, turquoise and cream beads by Unknown Quinault Artist
Lidded Wolf Design Basket
Wolf head design on basket in green and red with sun design on the lid by Unknown Quinault Artist
Carved Spoon
Carved spoon with mother of pearl inlay on edge, circa 1900 by Unknown Tlingit Artist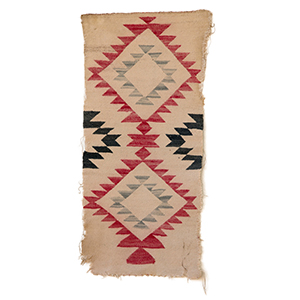 Navajo Rug Remnant
Remnant of a Navajo rug with a white background and two serrated red diamonds by Unknown Navajo Artist
To see more pieces from the Smith Collection, click below:
See More
---
Roland and Lila Wadsworth Bolo Tie Collection
After serving in WWII, Roland "Bob" Wadsworth graduated with a civil engineering degree and moved the Phoenix and with two other engineers. Together, they founded the Engineering Corporation and Roland served as chief engineer for numerous projects on the Navajo Reservation and became an admirer and friend of many talented artists and craftsmen. His fascination with beautiful bolo ties began when he purchased his first and determined to never wear an ordinary tie again.
By 1977, Roland's bolo tie collection amassed to 82 exquisite bolos designed in silver with inlays of coral, mother of pearl, malachite, lapis, sugilite, and turquoise. This gift to Tohono Chul follows Roland and Lila's generous gift of African artist Kioko Mwitiki's Horse, a life size reclaimed metal sculpture that is permanently installed in Tohono Chul's Cactus Circle.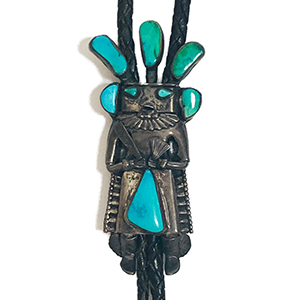 Helen Long Style Bolo Tie
Silver and turquoise Helen Long Style bolo with silver tips
Drum Design Bolo Tie
Drum design in silver and turquoise by Zuni artist Eddie Beyuka
Morenci Turquoise Bolo Tie
Silver and Morenci turquoise bolo with silver tips
Zuni Knifewing Dancer Bolo Tie
Silver and turquoise Knifewing Dancer bolo with silver tips by Unknown Zuni Artist
To see more pieces from the Wadsworth Collection, click below:
See More
Reversible Bolo Tie with Matching Cufflinks
On one side of the bolo has turquoise with a silver leaf and the other side has coral with silver designs by Navajo artist Ramon Platero
Turquoise Bolo Tie with Matching Ring
The bolo, tips and ring have silver leaves surrounding a piece of turquoise
Navajo Dancer Bolo Tie
Navajo dancer pendant made with sterling silver, 14K gold and coral by Navajo artist Leonard Jim
Eagle Bolo Tie
Eagle design bolo tie with eagle head tips by Zuni artists Ray and Bernice Wyaco
Cluster Style Bolo Tie
Coral, turquoise, and silver cluster style bolo tie.
Hoop Dancer Bolo Tie
Hoop dancer with four rings and silver tips by Zuni artist Eddie Beyuka
Hawk Bolo Tie
Perched hawk bolo tie with hawk head tips by Zuni artist Porfilio Sheyka
Mountain Lion Bolo Tie
Growling mountain lion bolo tie with claw and paw tips by Zuni artists Ray and Bernice Wyaco
Plains Indian Style Dancer Bolo Tie
Plains Indian Style Dancer Bolo Tie by Zuni artist Lavonne Lalio
Inlay and Needlepoint Sunface Bolo Tie
By Zuni artists Benjy and Shirley Tzuni
Shalako Bolo Tie
Shalako style bolo tie with silver tips by Zuni artist Vera Luna
Cowry Shell Owl Bolo Tie
Cowry shell owl bolo with silver tips by Zuni artist Porfilio Sheyka
Coral Bolo Tie
Silver and coral oval cluster bolo tie with silver tips by Navajo artist S. Chavez
Zuni Eagle Dancer Bolo Tie
Inlayed Zuni Eagle Dancer by Zuni artist L Harker
Sitting Mountain Lion Bolo Tie
Inlayed sitting mountain lion by Zuni artists Ray and Eva Wyaco
---
Want to see more?
Request a private tour to see more items available in each collection. Please email exhibits@tohonochul.org to make arrangements.
Disclaimer: Please note items are sold in as-is condition. Collection items featured on the website are available for shipment, however picking up your purchased items is preferred. Not all items in each collection are available on the website due to their delicate nature, but are still available for purchase, so please email exhibits@tohonochul.org for more information.
---
To receive regular updates of our exhibitions and receptions, subscribe below and when prompted, select the Exhibition Announcements & Receptions email list.
For Artists: To receive emails with exhibition opportunities including calls-for-entries, subscribe below and select the News and Opportunities for Artists email list.