Welcome to all things Penstemons!
Without a doubt, the genus Penstemon is a favorite of gardeners, its approximately 275 species widely cultivated on both sides of the Atlantic since it was first described by Virginia botanist John Mitchell in 1748.
These long-blooming perennials are endemic to North America from Canada to Guatemala, with every state in the continental United States having at least one native species. Their graceful floral spikes and color variety (shades of red, pink, blue, purple and white) have made them favorites across the pond as well, with hundreds of hybrids developed by Europeans since the early 19th century.
Perfect for drought-tolerant and wildlife-friendly landscaping, penstemons are low-maintenance. Most prefer sunny and dry growing conditions; though some do well with less sun and more water, all need well-drained, un-amended soil. Around Tucson, provide occasional water during dry summer months, but almost none when it is cool in fall and winter. Reaching heights of 1' to 3' tall (.3m to .9m), plants readily reseed themselves, so give them room to grow.
DAY 1 – Get to know Penstemons
The American Penstemon Society –
Did you know there was a society dedicated to Penstemons?
The American Penstemon Society is dedicated to the advancement of knowledge about penstemons, their introduction into cultivation, and the development of new and improved cultivars. The Society was formed in 1946 by a group of gardeners who had been collecting and growing penstemons in many different parts of the country. Their original purpose is continued today.
Penstemon Matching Game –
Penstemon Pelmanism
Let's play "concentration!" Copy each sheet twice and cut out the 52 picture cards. Shuffle, and lay them face down in 4 rows of 13 cards each. Taking turns, flip over two cards. Do they match? If they do, pick them up and take another turn. If not, turn them face down again for the next player. The player with the most pairs wins!
---
DAY 2 – Plant Care
High Country Garden Talks All About Beardtoungues
The Sonoran Desert Grower Shows Seeds Savings
Book Recommendation – Penstemons by Robert Nold
Learn more about Penstemons with this FREE download!
With some 270 species, Penstemon is the largest genus endemic to North America, with examples to be found in every state in the continental U.S. Penstemons are particularly beloved by rock gardeners, but as Panayoti Kelaidis points out in his foreword, they belong in every garden, since "one penstemon or another will thrive in virtually any microclimate a garden can contrive, from hot, desert exposures to dank shade."
Blog Recommendation – AZ Plant Lady
She's Wild About Penstemons!
"I adore flowers of all kinds, but I must confess that my favorite types look as if they belong to a cottage garden, which probably explains why I am wild about penstemons.
There are many different species of penstemon with varying colors, ranging from shades of pink to red with some white ones thrown in."
---
DAY 3 – Artistic Expression
Color these Penstemons courtesy of Martha Pille's A Desert Backyard Journal: 20 Years of Watching!
A Desert Backyard Journal, by Martha Pille is a collection of artwork and essays made over twenty years of backyard observation. "In creating the design," says Paul Mirocha , "I wanted to evoke the feeling of old herbals, watercolor sketchbooks, and handwritten journals."
Just download the images by clicking on the links below. Share your works of art on social using #tohonochulathome
Can't get enough of coloring?
Check out the Botanical Coloring Book released by the United States Botanic Garden!
---
DAY 4 – Let's Play with Watercolor
Learn how to paint Penstemons with Jess Engle!
Enjoy more wildflower watercolor tutorials with Jess Engle!
Local Artists Inspired By Penstemons
BARBARA BRANDEL
Penstemonium
mixed media on birch panel
Penstemons pop up in our yard every year, the new plants moving to a new area. I love the blossoms, but they don't last long enough. A tiny stem with seed pods, saved from a previous year, caught my attention in my studio one day, and this painting was born. Penstemonium fits nicely into my Inside / Outside series of paintings, in which I place an object from my studio or home in an environment outside, sometimes creating unusual combinations.
ERINN KENNEDY
Flycatchers and Penstemon Flowers
acrylic on birch panel
I paint the objects and places that I love and are a part my everyday life. I find inspiration in the Sonoran Desert landscape in and around Tucson, Arizona where I live. I am very interested in its natural beauty, historic manmade structures, and stories left behind. I am equally interested in the atmosphere that surrounds these places and the moods they evoke.
When I see a still life arrangement or an outdoor scene that captures my attention I will make several sketches of it from observation, emphasizing spatial relationships, passages and colors that I find interesting or unexpected. When starting a painting I put these sketches away and work from memory and attempt to capture the beauty and essence of these engaging places and things.
TED FLEMING
Anna's Hummingbird and Penstemons
archival pigment print
I'm an ecologist by training and a long-time amateur photographer. I spent most of my career as a Professor of Biology at the University of Miami. My research specialty is tropical plant-animal interactions, particularly pollination and seed dispersal mutualisms. In retirement, I have become a serious photo artist who uses digital tools to create my works of art. As an artist, I am often drawn to images that are visually complex (reflecting my lifelong interest in biological diversity) and colorful under the influence of artists such as Monet, Renoir, Van Gogh, Edward Hopper, and Georgia O'Keefe. I have rather eclectic tastes in my subjects but have not done much landscape photography. Given my background as a biologist, I particularly enjoy photographing wildlife, but I also like to photograph people 'doing interesting things.' One of my current techniques involves creating photo montages as a way of emphasizing the place of wildlife and people in their natural environments.
SUSAN LIBBY
Sonoran Desert Garden
acrylic on canvas
Sonoran Desert Garden represents the fabulous colors and variety of flora andfauna that bursts forth in our unique desert!
---
DAY 5 – Weekend Inspiration
#ThisIsTucson is a great resource for all cools things Tucson, especially now!
Taking another walk in your neighborhood? Look for these Tucson wildflowers and birds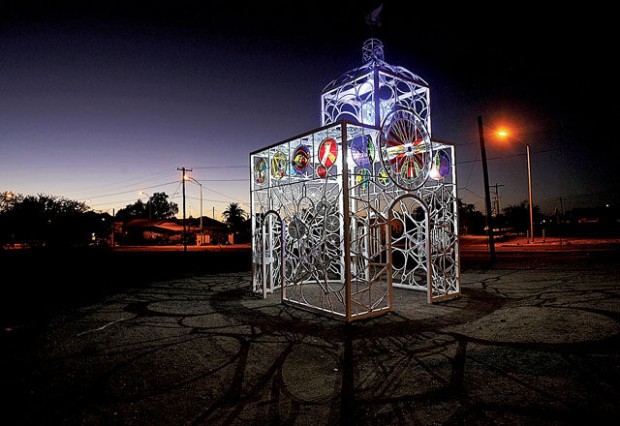 A local scavenger hunt of Tucson's public art for a drive around town
LEARN FROM THE MASTER!
Watch Every Episode of Bob Ross's "The Joy of Painting" for Free Right Now
---
Next Week's Theme